Capital Budgeting | Definitions | Features | Process | FIVE Stages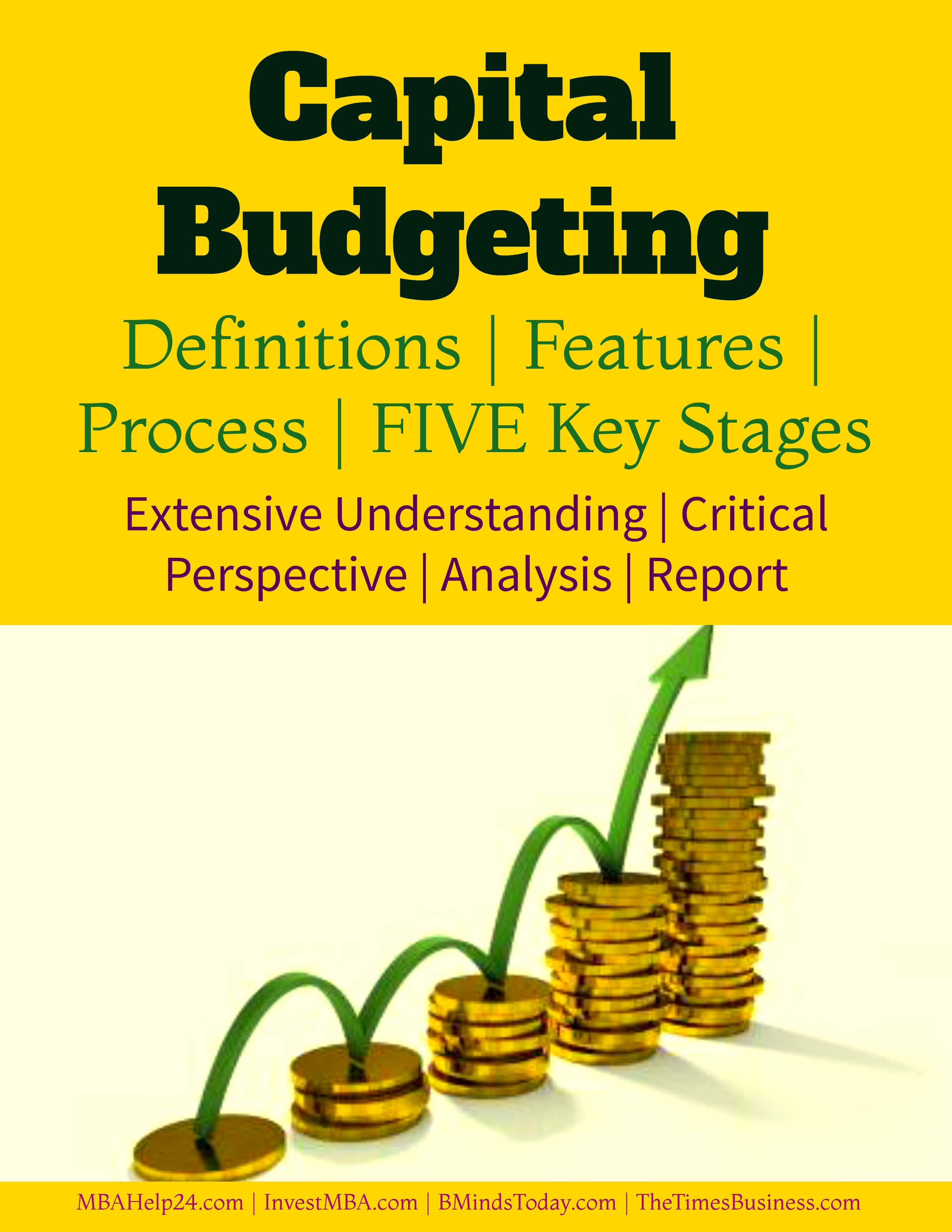 Capital budgeting is typically a multi-facet activity involving the pursuit for fresh and more profitable investment proposals.
Capital budgeting is the practice of identifying and selecting investments in long-lived assets, or assets projected to generate paybacks over more than one year.
Meaning and Definitions
Capital budgeting is fundamentally the planning and scheduling of capital expenditure which eventually provide earnings over a number of years.
It is the organisation's choice to take appropriate decisions when it comes to investments. However, organisation emphasizes investing its funds most efficiently in long-term activities against an expected flow of future profits over a number of years.
According to Charles T. Horngren, Capital Budgeting is a long-term planning for making and financing proposed capital outlays.
A comparable interpretation has been articulated by Max D. Richards and Paul S. Greenlaw, when they hold Capital Budgeting commonly talks about obtaining inputs with long-term returns.
Capital budgeting is a decision-making process through which is business concern evaluate the purchase of various fixed assets for expansion, replacement, etc.
Features of Capital Budgeting
Capital budgeting is typically a multi-facet activity involving the pursuit for fresh and more profitable investment proposals. Therefore the prominent features of capital budget are:
Potentially huge projected profits
Somewhat great amount of risk; and
A reasonably lengthy period between the initial spending and the predicted yield.
Capital Budgeting Decisions | Criteria | Substitute Directions | Implications
Process of Capital Budgeting
There are several steps involved in capital budgeting process, but they merely apply depend upon a number of factors such as scope of the concern, nature of projects, quantity of projects, complications and ranges and so forth.
According to prominent studies available in the market, there are FIVE major stages involved in the practice of capital budgeting:
Investment Screening and Project Generation: A constant generation of capital expenditure proposals including proposals that help in expanding the revenues and proposals that support in reducing the cost are vastly crucial to make efficient and full use of funds of the particular project.
Project Evaluation: The evaluation step in a project majorly deals with judging the appropriateness and desirability by applying suitable criteria. Therefore, the evaluation process consists of estimating the costs and benefits in terms of cash flows, and choosing a right criterion for judging the desirability of the project.
Project Selection: The project selection phase involves screening as well as choosing the projects. When projects are under consideration, they can be screened at several stages of management.  When it comes to final approval, it has to be given by the top Management.
Project Authorization and Execution: Following project selectin process, the funds for the selected projects are to be sanctioned. The formal plan for the allocation of fund is identified as capital budget.
Project Follow-up and Review: The follow-up step primarily deals with comParison of actual performance with the budgeted data. This particular step fundamentally ensures better forecasting and further helps in improving the practice of forecasting.
Fundamental Financial Accounting Assumptions, Principles & Conventions

Core Steps in Accounting Cycle | During & End of Accounting Period

4 Financial Statements | Balance Sheet | Retained Earnings | Cash Flows

The Balanced Scorecard | Comprehensive Knowledge | Measures | Perspectives

Capital Budgeting | Definitions | Features | Process | FIVE Stages

Capital Budgeting Decisions | Criteria | Substitute Directions | Implications

Liquidity Ratios | Current Ratio | Working Capital Ratio | Quick Ratio

Asset Turnover Ratios | Receivables Turnover | Inventory Turnover | Total Asset Turnover | Fixed Asset Turnover

Financial Leverage Ratios | Debt | Total Assets | Equity | Times Interest Earned

Profitability Ratios | Gross Profit Margin | Return On Assets | Return On Equity

Dividend Policy Ratios | Dividend Yield | Payout Ratio | Key Procedural Aspects