The Eurofound, the European Foundation for the Improvement of Living and Working Conditions in its study titled "Living, working and COVID-19" found that people across the Europe  are reporting low levels of optimism about their future.
People across the EU are also reporting very low levels of trust in the European Union and in their national governments, it stated.
In April 2020, less than half (46%) of EU respondents were optimistic about their future compared to almost two-thirds (64%) as recorded in the European Quality of Life Survey in 2016.
People from the most heavily hit countries in the EU (France, Italy, Belgium, Spain) were all among those least optimistic about their future and below the EU average, revealed the study.
Trust in the EU and national governments has also been affected during this period, however people in Belgium, Italy, Spain and France still have high level trust in Healthcare systems.
Comparing the trust levels in healthcare systems from April 2020 survey results, July 2020 e-survey results show that trust in the Healthcare system remained well ahead of trust in other institutions such as the media, national government and the EU.
Trust in EU (27) institutions (scale 1 to 10).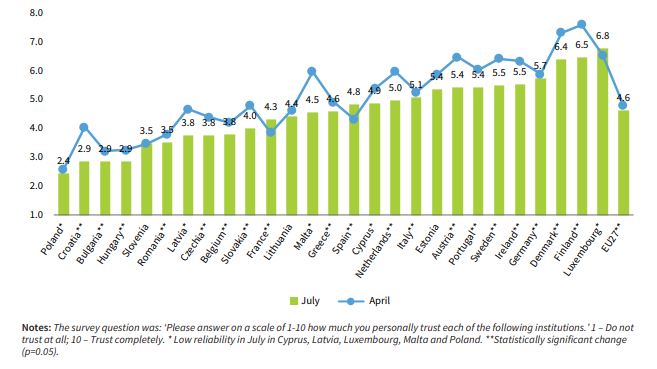 The results of the e-survey show that overall trust in the government was slightly lower in July 2020 than it as in April. This is the case for all sociodemographic groups, except for those aged 50 and over, for whom trust levels did not change. It also holds true for many Member States, although not for all. In France and Spain, trust in the government was higher in July than it was in April.
In Spain, it increased from 4.3 to 4.8 and in France it increased from 3.9 to 4.3. Quite a different development is seen in Croatia, Austria, Finland, Netherlands, Sweden and Denmark.
In these countries trust fell by around one point on the scale. Drops of at least half a point are noted in Ireland, Slovakia (both -0.8), Portugal (-0.7), Czechia (-0.6) and Estonia (-0.5).
Trust in the national governments in July ranged from 2.9 in Croatia to 6.5 in Finland; in April, trust levels ranged from 2.6 in Poland to 7.6 in Finland.
Trust in the EU is greater than trust in national governments.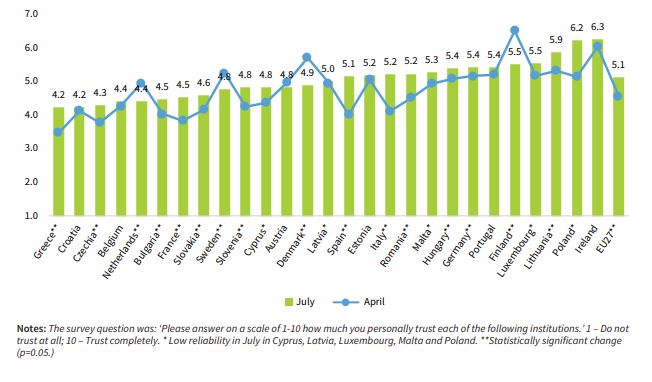 Trust in the European Union was significantly higher among respondents in July (5.1) than among respondents in April (4.6) and now exceeds trust in the national government.
Trust in the EU ranges from 4.2 among respondents in Croatia and Greece to 6.3 among respondents in Ireland.
According to the findings, trust in the EU improved among all sociodemographic respondent groups. Among the self-employed, it increased from 4.3 to 5.1. Trust among unemployed respondents still lags, despite a significant increase since April (from 3.8 to 4.4).