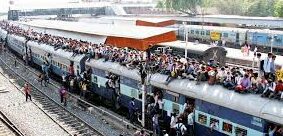 According to India's Railway Ministry's data, revenue from passenger and parcel services for the last three years i.e 2016-17, 2017-18 and 2018-19 and current year up to September, 2019 is  as  follows;
| | | | | |
| --- | --- | --- | --- | --- |
| | 2016-17 (₹ in Crore) | 2017-18(₹ in Crore) | 2018-19(₹ in Crore) | 2019-20 (September /19) (₹ in Crore) |
| Passenger | 46280.46 | 48643.14 | 51066.65 | 26642.73 |
| Parcel | 1911.42 | 1749.23 | 1619.03 | 716.18 |
According to India's Railways and Commerce & Industry Minister Piyush Goyal's written reply to a question in Rajya Sabha on 29th November, the details and routes introducing private operations of passenger services have not been finalized, so far.
However, in terms of the 100 Days Action Plan of the Ministry of Railways, it has been decided to hand over two rakes of Tejas Express to Indian Railway Catering and tourism Corporation (IRCTC) to operate on Haulage Charge principle, the minister said.
Accordingly, approval has been accorded to IRCTC for running two Tejas Class trains namely New Delhi-Lucknow Tejas Express and Ahmedabad-Mumbai Central Tejas Express.
Of these, 82501/82502 New Delhi-Lucknow Tejas Express has commenced its operation wef 04.10.2019.
The minister also stated that as regards Parcel services, Comprehensive Parcel Leasing Policy and Policy for leasing of Parcel Cargo Express Trains have been further liberalized by way of
delegating powers to the zonal railways for revision of reserve price even downwardly,
increasing duration of contracts from 3 years to 5 and 6 years,
setting lease rates with fixed escalation @10% from 4th year onward,
including Bank Guarantee as mode of Security Deposit,
permitting leasing of Parcel Vans by Ordinary passenger trains,
permitting PCET with a minimum load of 15 parcel vans for six months,
withdrawing distance restriction of 300 Kms for availing loading/unloading facilities at intermediate halts/stations, etc.