The size of the economy of India will double to

$5 trillion

by 2022.
The major contribution will come from the manufacturing as well as Agricultural sector ($1 trillion from each sector).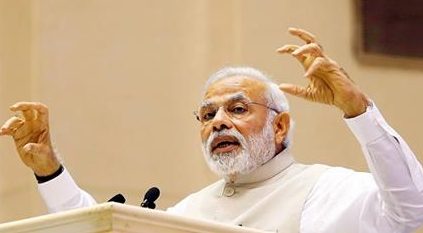 India's Prime Minister Narendra Modi recently said the size of the Economy of India will double to $5 trillion by 2022, with the major contribution from the manufacturing as well as agricultural sector ($1 trillion from each sector).
Modi said the Indian economy will grow at a rate over 8% with enormous employment generation being witnessed in fast-growing sectors like Information technology (IT) and retailing.
Economy's macroeconomic fundamentals are solid, Prime Minster said at the foundation laying ceremony of the India International Convention and Expo Centre in Delhi.
He also said that the government's efforts for Make In India has led to 80% of mobile phones currently in use being produced within the country, serving save Rs 3 lakh crore in foreign exchange.
He further said that the government has courage to take bold decisions.
The Economy of India is the world's sixth-largest economy by nominal GDP and the third-largest by Purchasing Power Parity (PPP).
After the 1991 economic liberalisation, India achieved 6-7% average GDP growth annually.
In Fiscal Year 2015 and 2018 India's economy became the world's fastest growing major economy, surpassing China.