Vendor Managed Inventory | Overview | Features | Advantages | Concerns
You Should Remember:

The overall purpose of VMI is to optimize inventory management in supply chain practices.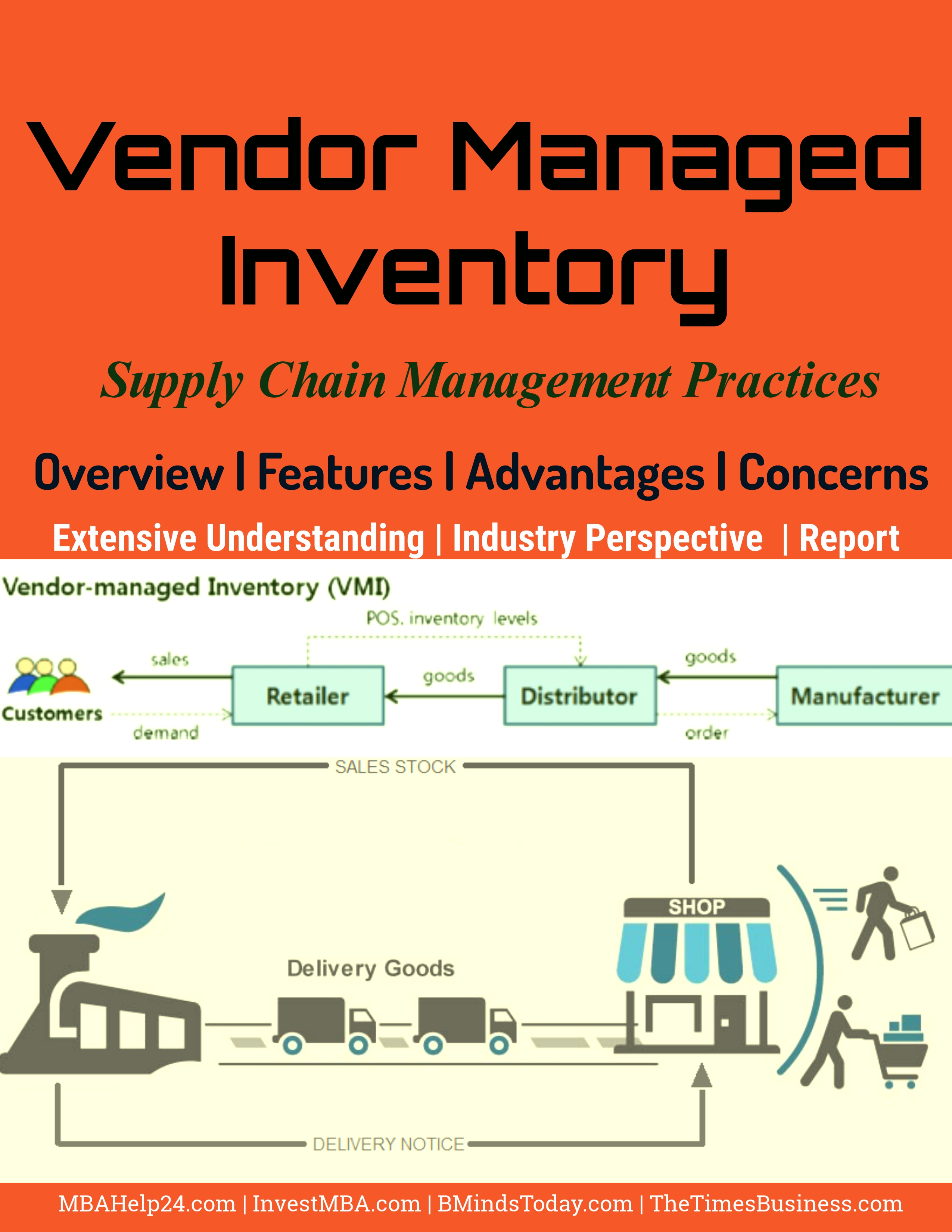 Abbreviations:
VMI= Vendor Managed Inventory
EDI= electronic Data Interchange
Vendor Managed Inventory (VMI) is a course of action in which the vendor generates preparations pertaining to orders for their customers based on demand information that they obtain from the customer.
Defining VMI
The VMI can be defined as "A means of optimising supply chain performance where the manufacturer or seller is accountable for maintaining the distributors or buyer's inventory levels. The manufacturer or seller has access to the distributors or buyer's inventory information and is accountable for the same."
The vendor and customer are strictly bound by a pact which fundamentally determines inventory levels along with fill proportions and costs.
The vendor formulates forecasts, replenishment conclusions and, in some situations agrees to take inventory ownership up until consumption of the stock.
The buyer's role shifts from active Inventory Management to a more passive task of providing well-timed as well as accurate information pertaining to consumption and inventory levels.
The manufacturer or producer or maker obtains electronic data using Electronic Data Interchange (EDI) or through the internet that basically implies the distributor's sales and stock levels.
In the period in-between, the manufacturer has access to the wholesaler's or retailer's inventory data, and can see every single item that the distributor has in inventory.
As far as VMI is concerned, the manufacturer is accountable for generating and managing the inventory plan, not the distributor or retailer.
The overall purpose of VMI is to optimize inventory Management in supply chain practices.
Supply Chain Management | Comprehensive Understanding  | Driven Factors Behind SCM Popularity
Here are a few added features of VMI:
The VMI plan has potential to advance supply chain performance but then again dipping inventories and eradicating stock-out environments.
Some significant features of VMI consist of:
Unifying forecasting practices
Shortening of the supply chain
Regular communication of inventory, stock-outs, and scheduled promotions. The connections of EDI facilitate this mode of communication.
Trucks are packed in a listed order. For instance, items that are expected to stock out have highest importance, than items that are utmost further down targeted stock levels, or advance shipments of promotional items.
Association with downstream distribution or delivery networks.
Strategic Decision Variables In Supply Chain Management | Inventory | transportation | Facilities

The Bullwhip Effect In Supply Chains | Causes | Countermeasures
Core Benefits of Vendor Managed Inventory        
The core benefits of a Vendor Managed Inventory (VMI) are:
Vendor Managed Inventory marks in intense inventory reductions across the supply chain since there is merely one inventory control point. Wide-ranging supply chain inventory reflectiveness permits for the reduction of redundant safety stocks at various points of supply chain.
Transactions or sales regularly surge for the reason that the vendors are very well knowledgeable about which goods the consumers are purchasing; as a result they have considerably a less significant range of products to retain in the market.
Growing the profitability of customers' on their product line makes the supplier's product less expensive to carry when compared to the supplier's rivals. An increase in customer's profitability implies the long-term survival of the customer.
An added comprehensive understanding of VMI advantages the supplier to be evolved as high-pitched decision maker.
The VMI also helps supplier to make the effective fact-based decisions in areas including production planning, promotion strategies and new product introduction.
Usually, there are two basic inventory management questions in retailing:
When to order?; and
How much to order?
The retailers are therefore answerable for setting up inventory policies in addressing the concerns.
As a result of enhanced retailer-supplier partnerships and the cutting-edge modernizations in information processing, the ownership of inventory decision-making has shifted from the traditional retailer-based to wide-ranging supplier-centered.
Vendor Managed Inventory | Overview | Features | Advantages | Concerns