BEST Behaviours to Advance Your Goals | business Intentions | Goal Setting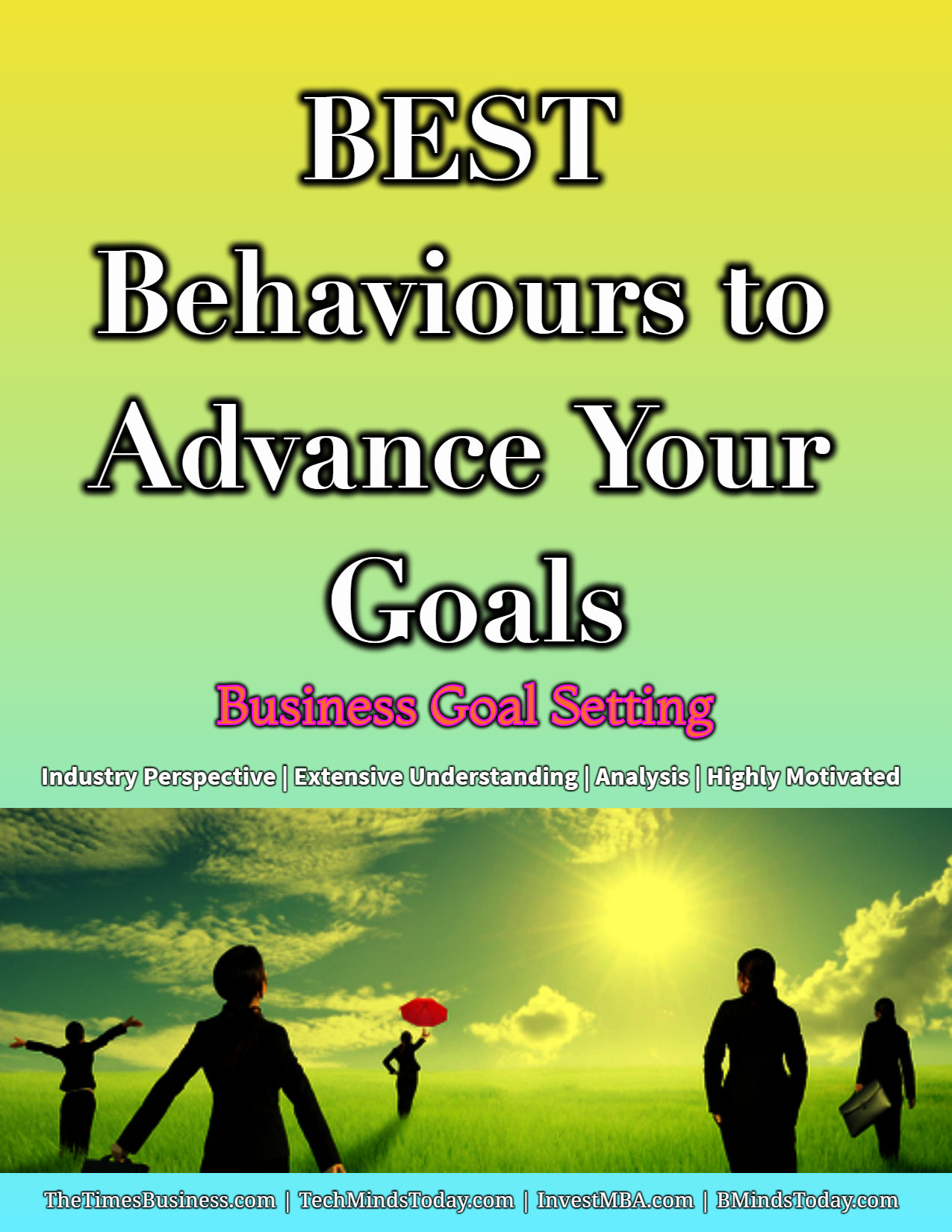 What kind of practices could you bring that would stimulate you and induce your beliefs about your aptitudes or improve your business or career and take up to the top?  Well, you in this case don't really have to invent something completely new.
If you develop a habit of observing or studying others you then for sure can acquire great thoughts or concepts. This should be the very first step because if you initially start mining the attributes from the people around you, you then can learn the skills that moderately easy to acquire.
You can learn the skills by observing the people especially the ones who are displaying the skills in their respective fields. These sorts of learning sources could be your colleagues, friends, family members, and others.
You don't have to pick the thoughts or concepts that seem complicated to your needs. You in early stages better to focus on acquiring simple, stress-free and valuable skills.
Those skills could include;
How to proceed to make proper decisions
What sort of techniques need to be adopted for solving the problems
How to handle and control the situations
How to handle disruptions
How to manage the time; and
How to proceed to get help or assistance in order to get things done.
Apart from fundamental behavioural learning practices, there are some other result-oriented yet 'must-learn' advanced behaviours that require implementing in order to improve your business goals.
[ihc-hide-content ihc_mb_type="show" ihc_mb_who="1″ ihc_mb_template="1″ ]
Begin your journey with THE END in mind or Simply focus on target
Before you even think of starting your journey off you have to have your destination in your mind. Beginning with the end in mind is the benefaction of imagination.
When you set goals you then have a tendency to avoid unnecessary tasks and focus on what mostly matters to you. Targets assist us to focus, and the quality of our thoughtfulness is enriched by a having an assignment so cool and attention-grabbing that we cannot help but make a bound.
While focusing on target, you have to figure it out how you would want to plan to carry out the tasks.
Here are the key attributes that need to be addressed in this respect.
Define and give a title to the whole accomplishment
Give your assignment a heading
Define  what exactly needs to be done by when
Justify how would you like things to end up
Identify optimistic motives for chasing the goal
Raise the bar or shoot for the moon
To beat the competition and to be somewhere to make a difference you then have to challenge the limits. You have to define the prominence of your each and every move that you are planning to consider towards goal. Bearing in mind the elements including doubling the goal, trying something new and challenging the limitations because these are just some of the attitudes that put our plans into action and move us towards revolutionary outcomes.
You get to know the significance of these attitudes once you open your mind in looking around and witnessing the very essence of commonplace activities being tested and re-imagined.
Such as business schools re-defining marketing education by bringing in activities ranging from e-marketing or Digital Marketing tools such as social media marketing (SMM )to digital transformation models and programs.
Adding the tools or raising the bar on a project can simply mean taking one extra step, having an allegiance to a weird idea, or devoting to a regular practice.
When you strictly follow the principles such as pledging to a goal in a meaningful means, personalizing the goal, and making it your own, you then have a tendency to find a brand new energy, inventiveness and difference.
Accordingly, you should be ready to take bold steps and make a difference by;
Double the goal
Challenge the limits
Creating regular practice
Raising your standards, values or principles
Making it a game
"Shoot for the moon. Even if you miss, you'll land among the stars."
 Go the route of least resistance or choose the smart way
It is a proven fact that from time to time a goal deserves a break.  A study revealed that after eight hours of sleep you would be more than twice as likely to find a shortcut for solving a problem.
Signifying that "taking it easy" is good for the brain and whatever is good for the brain is good for the overall inner-self and personality.
Are you undertaking too much, not getting nurtured and being tired? Well perhaps its time to consider another track.
Considering another track does not necessary mean re-inventing the whole idea, it is in fact more about learning or understanding the options.  You can enhance your decision making capabilities by taking guidance from a person or consultant involved in the similar area.
For example, if I was writing a project or research paper or report and struggling with a self- imposed deadline, I could simplify my project simply by signing up for a writing class. With a great level of support and exercises it would make things flexible.
Another over looked shortcut is to consider smaller steps. The smaller the augmentations the easier the goal. This particular process can be enlightened slowly but surely.
So, you in this section have to makes sure that:
You are not inventing but you are redefining the challenges
You are finding someone who can help you in accomplishing your targets
You are slowing down when you are hit by confusion
You are changing the path to make it happen
You are keeping to minimum daily criterions
You are noting everything down for assessment purposes; and
You understand that "the smaller the augmentations the easier the goal"
Go the route of least resistance or choose the smart, it's a great way to advance your confidence related intensities.
[/ihc-hide-content]